On 7th of September 2013 Dirk Spits, founder of the 99%RIDE Foundation, started a bike ride from Alaska, through all the American continents. His aim is to reach Tierra de Fuego, Argentina in the South Pole by mid 2015. Over 27,000 kilometers (17,000 miles) separate the North and South Poles and Dirk will cycle this distance in over a year and a half. Knowing of this fantastic adventure and challenge, I had to interview Dirk and ask him why he was doing this!
How and why did 99%RIDE come along?
– Last year I decided to sell all my belongings and leave Holland, my home country to create the 99%RIDE Foundation to help children in less developed countries. We want to help people and especially children following the principles of the saying: "Give a man a fish and you feed him for a day; teach a man to fish and you feed him for a lifetime."

The concept behind 99% is pretty straight forward: 99%RIDE asks 1% of people's time or donations whilst they do 99% of the hard work, that is cycling and getting involved in 13 projects in 15 different countries.
Why 1%?
– I believe that people in western countries have enough time, money and knowledge, 1% of this doesn't influence their own personal life, but it can positively influence many other people's lives. A minimum amount for a maximum impact.
Whilst Dirk does the cycling, promoting his cause along the way, Wouter and Samantha are the media crew organizing the fundraisers for the foundation and making sure there is an agenda filled with presentations for Dirk to do. Their main aim is to raise awareness about the plight of millions of children in third world countries and help them in a positive way.
Any highlights of the last 10 months cycling you would like to share?
– I did a presentation in Oregon in Portland, in front of families and children and following this a girl called Genevieve did her own presentation at her school and raised 23 USD. From the height of her 11 years, Genevieve, came to me to give me a pink envelope on which was written,"I am the 1%."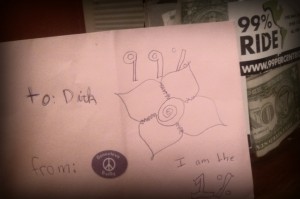 This was one of the most beautiful and certainly one of most emotional moments so far.
Dirk who is cycling an average of 110kms (70 Miles) a day with a 50kg (110 lbs) bike together with Samantha and Wouter who are organizing all the ground operational and PR work are simply truly amazing people who have decided to make a positive difference in this world.
We can all make a difference.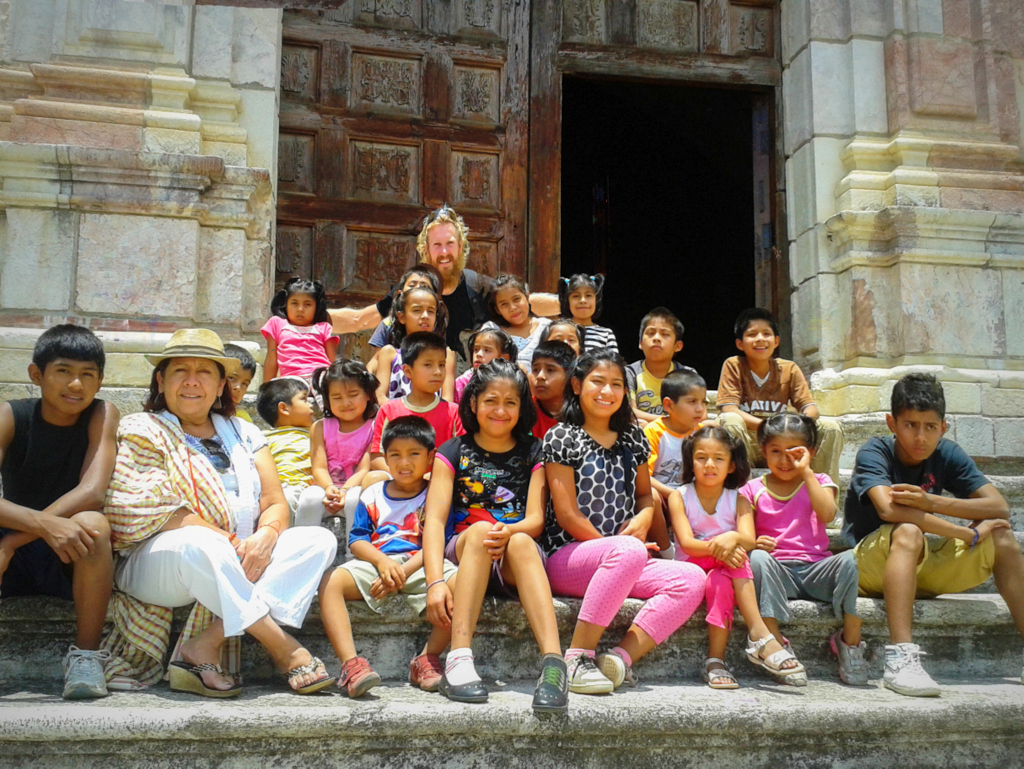 Should you wish to join 99%RIDE and contribute in time, money, knowledge or anything else, you can follow them or contact them.
The great thing about 99%RIDE is that they follow up on the interventions they have done in different places and you can view many of their contributions via YouTube, Instagram and Facebook.
I wish 99%RIDE all the very best of success in their projects and as Dirk would say:
Adventurous Regards!

By Angelina Cecchetto on 11th July 2014