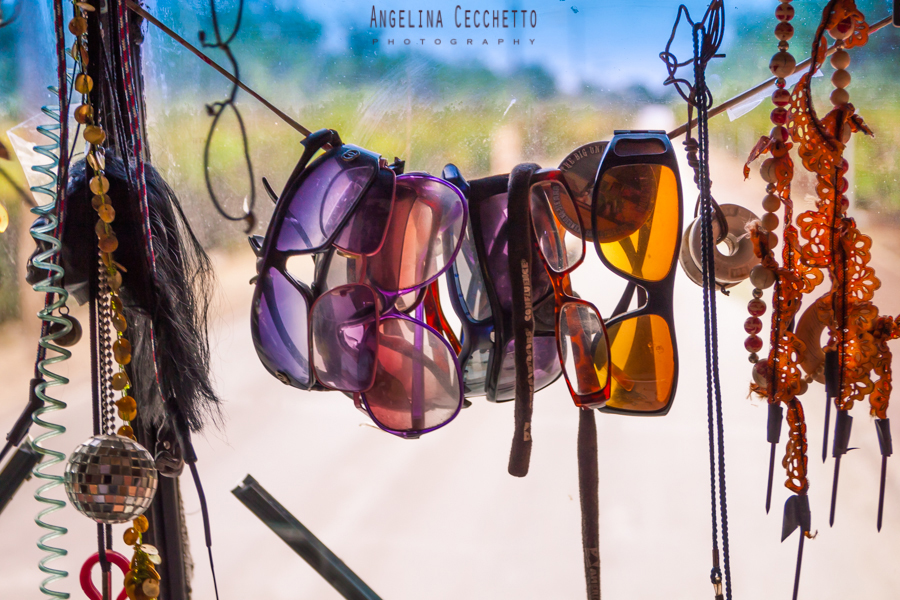 What happens in Mexico, stays in Mexico! Well, having lived in Mexico, I normally abide by this principle but for once I decided not to, as there are some encounters in life that we have to share. May it be for the sheer magic of the encounter or the sheer magic of the harmony you can't but feel with some people; my encounter with the Big Underwear Social Tour was definitely one of these!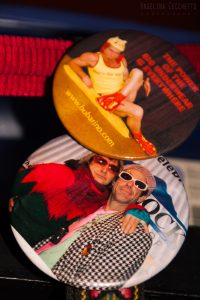 I met Irmi and Brady, who are the 2 main artists of the Big Underwear Social Tour, in a small fishermen's village on the Caribbean side of Mexico where I was spending New Year's Eve celebrations with friends.
A few days later, having to catch a bus and a ferry to go to Belize to dive the Blue Hole, I met with Brady's daughter Rosie who very kindly offered me a lift back to Playa del Carmen in "the bus".
When I saw the Big Underwear Social Tour bus – a 1978 AmGen retired city bus that Irmi and Brady marvelously refurbished to fit their project – my eyes started glittering with joy and a big smile travelled through my face. This bus seemed to me to be the bus of happiness.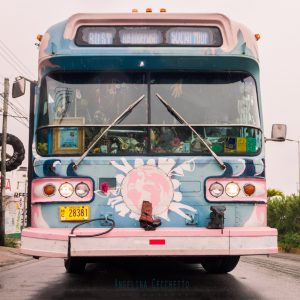 The Big Underwear Social Tour (BUST) is not just a bus, it is an inspiring itinerant artistic act founded by Irmi and Brady in 2010. They now travel across South America for about 6 months of the year in the bus and for the remaining 6 months they perform at festivals and corporate events in Europe.
When I saw and entered the bus, I was in a state of happiness and excitement that only children have the privilege to feel. I felt privileged to be in it and to share some life moments with some of the most beautiful people I have been very lucky to meet in my travels.
Behind the great artistic show, there is a deeper message in the BUST act and philosophy that touched me particularly and this is a message of true Freedom and Altruism. Altruism towards people and the planet.
When I asked Irmi and Brady what was the main message behind their act and lifestyle, here is what they replied:
– We are exploring the relationship between money and friendship. We don't understand the evolutionary changes in our societies. Friendship and family is one thing. Strong family ties are another form of racism, they give you a border (look after our family and not the rest of humanity). Money has become more and more important and is taking away the friendship opportunity. Facebook, is symptomatic of this.
The second main axis of their philosophy is Nature conservation.
– We often try to inspire people to pick up garbage as we find it to be an international emergency. Sometimes we go around picking trash from the beach, do local initiatives to try to inspire local people to pick up the trash themselves. Some people just drop things in the street or just anywhere. Before buying new things at the supermarket, go and see if you can find it around you, this gets people together and strengthens friendship. It's better than making corporations richer.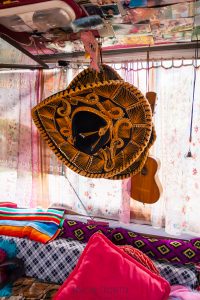 Exploring the relationship between money and friendship, what a vast and fascinating topic! Irmi and Brady who hosted up to 14 artists when they did their first tour with the bus, have explored the boundaries between money and friendship more than anyone else maybe.
For me, Irmi and Brady incarnate a notion of Hope. They are two independent and talented artists who decided to live free mentally, physically and morally from a constrictive norm and are successful in doing so. They also teach us all a great lesson of altruism in the act of sharing space and taking time to have quality time with others and using their skills and talents to bring attention to the critical situation the planet is in and try to inspire people to act about it.
For what they do, I respect them and thank them. I am very grateful I have spent a couple of days in the Big Underwear Social Tour bus with Irmi, Brady and Rosie, they are some of the most inspirational, altruist and free artists I have met so far.
I wish them bons voyages!
By Angelina Cecchetto on 11th April 2014